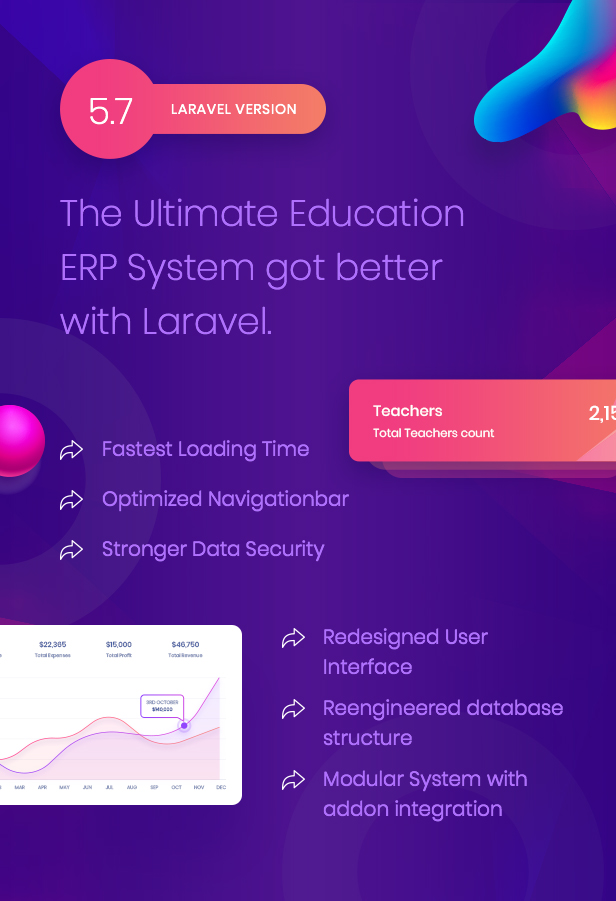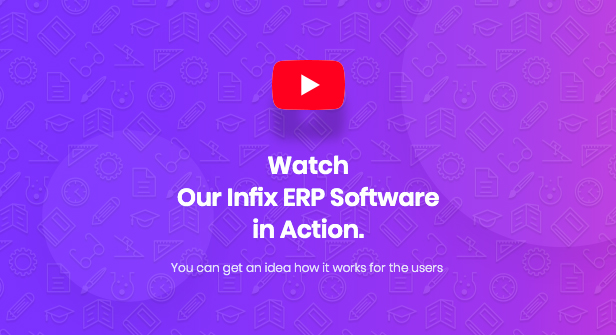 How INFIX Works:
However, If this video amazes you or generate a lot of question to you then we recommended please check our Pre-purchase FAQ's section in bellow otherwise comments section is always open.
INFIX Features Module:
ADMIN SECTION:
Admission Query
Visitor Book
Phone Call Log
Postal Receive
Postal Dispatch
Complain
Admin Setup
Setup Front Office
Managing User accounts (teacher, student, parent)
Managing classes, subjects
Managing class routine
Managing exam, grades
Managing exam marks
Sending exam marks via sms
Managing Students Attendance
Student Certificate
Generate Certificate
Student Id Card
Generate Id Card
Managing accounting, income & expenses
Student Admission
Student Details
Student Promote
Managing School events
Student Category
Student Group
Desabled Student
Managing library, dormitory, transport
Messaging between other users
Managing system settings (general, massaging , language)
TEACHER PANEL FEATURES:
Add Homework
Evaluation Report
Upload Content
Assignments
Study Material
Syllabus
Other Downloads
Teacher
Managing students
Managing exam marks
Managing attendance
PARENTS PANEL FEATURES:
Get children marks
Get children payment invoices
Get children class routine
Messaging with teachers
Childs attendance tracking
STUDENT PANEL FEATURES:
Get class routine
Get exam marks
Get attendance status
Get study materials / files from teacher
Get payment invoices, pay online
Communicate with teacher
FEES COLLECTION:
Fees payment
Collect Fees
Search fees Payment
Search fees due
Fees Master
Fees Group
Fees type
Fees statement
Reports
Invoice
Fees carry Forward
Paid/due fees statement etc
ACCOUNTS:
Account Dashboard
Profit
Income
Expense
Search
Account List
Payment Method
Bank Account
Payment History
HUMAN RESOURCE:
Staff Directory
Staff Attendence
Staff Attendence Report
Payroll
Payroll Report
EXAMINATION:
Add Exam
Exam
Add Exam Type
Exam Schedule
Seat plan
Exam routine
Marks Register
Exam Attendence
Marks Grade
Send Marks by SMS
Question Group
Question Bank
Online Exam
Date & time organization
Schedule notice
Instruction
Mark sheet & Report
ACADEMICS:
Dashboard
Class Routine
View Class Routine (Teacher)
Assign Subject
Assign Class Teacher
Subjects
Class
Sections
Class Room
CL/EX Time Setup
Subjective assign
COMMUNICATE:
Notice Board
Send Massage
Send Email/Sms
Email/Sms
Event notice
Event Logs
Holiday notice
LIBRARY:
Add Book Book List
Add Member
Member listing & manage
Book category/list
Issue/Return Book
All Issued Book
Card issuing
INVENTORY:
Item Category
Item List
Item Store
Supplier
Item Receive
Item Receive List
Item Sell
Item Issue
HOMEWORK:
Add Home Work
Home Work List
Home Work Evaluation Report
TRANSPORT:
Routes
Vehicle
Assign Vehicle
Student Transport Report
Schedule/Routine
DORMITORY:
Dormitory Rooms
Dormitory
Room Type
Rooms monitoring
Student Dormitory Report
REPORTS:
Student Report
Guardian Report
Student History
Student Login Report
Fees Statement
Balance Fees Report
Transjection Report
Class Report
Class Routine Report
Exam Routine Report
Teacher Class Routine
Merit List Report
Online Exam Report
Mark Sheet Report
Tabulation Sheet Report
Progress Card Report
Student Fine Report
User Log
Attendants Report (Teacher & Student both) and Many More…
SYSTEM SETTINGS:
General Settings
Email Settings
Payment Method Settings
Role Permission
Base Group
Base Setup
Academic year
Session
Holiday
SMS Settings
Weekend
Language Settings
Backup
FRONT CMS
Coming soon. We are working on it and hopedully it will launch in our next update.
INFIX has More:
Optimized PerformanceOne click update systemClean Code qualityInstallation wizardMulti LingualFull ResponsiveRTL – Coming soonE-mail notification with templatesSupports SMS notificationPrintable ReportsPowerful permission editorFlexible fee structureDetails students & stuff ProfileStudent attendedUnmatched transport moduleComplete digital library system
Common Features:
Added Menus
Added Media Manager
Added Pages
Added Event
Added Gallery
Added News
Added Banner Images
Added Human Resource with Payroll module
Added Staff Directory
Added enable/disable staff
Added Staff Attendance
Added Staff Attendance Report
Added Payroll
Added Payroll Report
Added Approve Leave Request
Added Apply Leave
Added Leave Type
Added Department
Added Designation
Added Front Office with Admission Enquiry module
Added Admission Enquiry with Status and Follow Up
Added Visitor Book
Added Phone Call Log
Added Postal Dispatch
Added Postal Receive
Added Complain
Added Setup Front Office
Added ACL based Roles and Permission module
Added Roles
Added Assign Permissions on Roles
Added enable/disable modules
Added Certificate and ID Card Print module
Added Student Certificate
Added Generate Certificate
Added Student ID Card
Added Generate ID Card
Added Homework module
Added Homework
Added Homework Evaluation Report
Added Calendar with To Do List module
Added Calendar Event
Added Task for To DO List
Added File based Languages
Added class-section and same role upload content in Download Center
Added Student Timeline
Added login with last logout page
Added character count in Email/SMS send message box
Added sibling feature in student edit
Added Fees Carry Forward to next session
Added Auto Backup using Cron
Added new navigation panel for students in same class
Added % in student attendance report
Added UTF-8 support for csv file in student import
Added new fields in student import
Added enable/disable student
Added online payment in student panel
Added Assign Class Teacher
Added Teacher Restricted Mode
Added Student History
Added Guardian Report
Added Student Transport Report
Added Student Hostel Report
Added Student House, Blood Group, Height, Weight, As On Date, Father, Mother, Guardian photo in student profile
Added hostel allotment in student admission
Added required filed red * mark in forms
Added sorting in student attendance page
Added Download Center in Parent Panel
INFIX- Ultimate Education ERP Pre Sale FAQ's:
There are we collecting few common questions about this ERP Software.
We are pretty sure it will cover 80% questions answer for your queries. Anyways, if we miss something please don't forget to comments. Our support team will help you by answering your specific questions. Again, we are looking forward to your suggestions and feedbacks.
Faq's (Questions & Answer)
Infix System Requirements
If you are not using Homestead, you will need to make sure your server meets the following requirements:
PHP >= 7.1. 3
OpenSSL PHP Extension
PDO PHP Extension
Mbstring PHP Extension
Tokenizer PHP Extension
XML PHP Extension
Ctype PHP Extension
JSON PHP Extension
BCMath PHP Extension
* In most hosting accounts, these extensions are enabled by default. But you should check with your hosting provider.
After installation Infix School to work properly, you must make a few directories/files writable, permission is 777. Below are a list of directories/files you should ensure that have to write permissions.
installation_dir/storage/app/
installation_dir/storage/framework/cache
installation_dir/storage/framework/session
installation_dir/storage/framework/testing
installation_dir/public/uploads/
Important notice:
We don't offer free support (Time support can up to 2 days)
We don't offer refund (If item has been Dowloaded or Mistake)
We don't support install and custom script free
Read all the product information before you decide to buy it
One purchase can use maximum one school only
We have demo to check all the point, after purchase cannot accept the refund this feature not available. something like that.
Support Facility:
Please send us your product presale query, after sales developer support request, customization project and any other queries to our dedicated support: https://ticket.spondonit.com/index.php